That is two more than in March of this year. The categories 'jewelry and accessories' and 'automotive products' have shown the largest change in preferences in recent months. Therefore, the digital transformation does not slow down, despite the relaxation of many measures. This is evident in the latest issue of Klarna's Shopping Pulse.
The graph shows where the Dutch prefer to shop by product category
Klarna's Shopping Pulse is a recurring report that continually examines the changing shopping habits of consumers in 9 countries on three continents. The recurring survey was conducted among more than 9,000 consumers in Klarna's main markets on three continents: the United States, the United Kingdom, Australia, Germany, Austria, the Netherlands, Norway, Finland and Sweden. In the Netherlands, 1,010 respondents participated.
You can read the new report "The Klarna Shopping Pulse: The Netherlands" here find.
Despite opening stores, more online purchases
Since the stores have reopened without restrictions, there has been a clear growth in the number of people visiting a physical store each week. At the same time, the number of people shopping online is also increasing each week. The study looked at 12 different product categories, of which people in eight categories indicate that they prefer to shop online. The preferred categories that have grown the most since March are 'jewelry and accessories' and 'automotive products' *. In March, most people preferred to buy these products in physical stores, now they prefer online. The only product categories for which consumers still prefer brick-and-mortar stores are "grocery," "pharmaceuticals," "beauty," and "home and garden."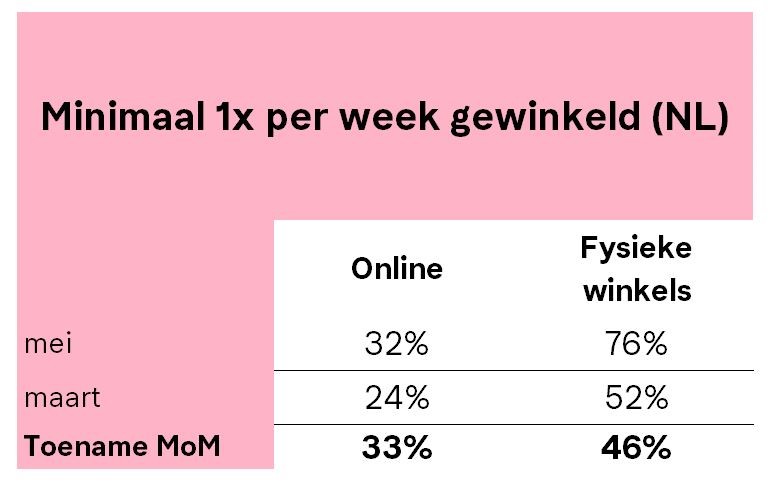 While the Dutch returned to physical stores, the share of weekly online shoppers increased. The months of May 2021 and March 2021 have been compared.
Online stores versus physical stores
The largest shopping category in the Netherlands is "clothes and shoes". Compared to March, purchases in this category are made online more frequently than in physical stores. That is surprising, given the opening of physical stores since the end of April. In May, 51% of Dutch shoppers bought clothes or shoes online, compared with 39% in-store. If people had to choose between buying only online or only in physical stores, 64% of shoppers in the survey still prefer "only in physical stores." The younger they are, the more they prefer online.
Role of technology
'The digital transformation has accelerated in the last year. While shoppers are now returning to brick-and-mortar stores, we expect the proportion of online purchases to continue to grow across all product categories. Some purchases in physical stores are preferred, but more and more products are preferred online. And this will grow rapidly as retailers are only at the beginning of the possibilities that e-commerce can offer. Technological possibilities are developing at breakneck speed, "says Viveka Söderbäck, Klarna's expert on consumer behavior.
She continues: 'In the near future, stores will increasingly take on the role of inspiring showroom, where actual purchases are often made digitally. A little further in the future, retailers will increasingly introduce digital solutions that can remove the uncertainty about online shopping. For example, testing products using augmented reality. Consider trying on clothes in a virtual changing room or placing household furniture on the screen of a mobile phone or tablet. There are more and more technological solutions to make this possible on a larger scale. This not only brings convenience to consumers, but is also a way to satisfy consumers 'desire for more sustainable solutions.'
"Extreme gamer. Food geek. Internet buff. Alcohol expert. Passionate music specialist. Beeraholic. Incurable coffee fan."