News tip New World PTR: get out of the public test realm, how to access it?
New World continues to evolve, especially thanks to feedback from the community. That is why the developers have decided to open the public test realm, allowing them to get direct feedback on the updates that are being considered. We explain how to participate.
New World, the MMO from Amazon Game Studios, has seen ups and downs since its launch. The developers had to deal with many bugs and spam issues noted by players, such as failure to obtain infinite gold or abuse of the game's trading system. These incidents undoubtedly inspired the new tool associated with New World: the public test realm (RTP).
Concerned about providing a positive gaming experience to players, the developers decided to call them to resolve issues before the updates were released. They define the RTP (also called PTR for its acronym in English Public test realm) as follows:
Public Test Realm (RTP) is a limited access set of servers that will give gamers a first look at upcoming features. These preview builds are snapshots of upcoming major updates, not final versions – you may experience bugs, glitches, missing text, or other issues. Between our internal testing efforts and your feedback, we hope to detect and resolve any serious issues before they reach live servers. Hundreds of changes have been made and we will inform you of the full release notes on the day of publication.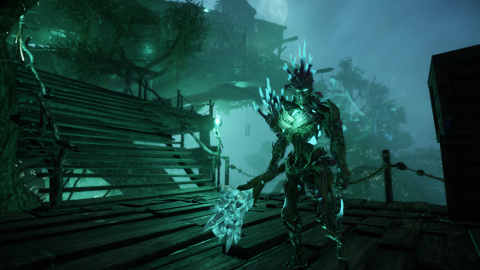 All players can now find the New World Public Test Realm app in their Steam library. By downloading it, you can access the latest preview version of the game and provide feedback to the developers. In addition to the in-game feedback tool, players also have access to an RTP sub-forum created to provide feedback to developers.
The servers, which opened this Wednesday, November 10, 2021, are currently limited to one world in the eastern United States and another in central Europe. These worlds will only be accessible during the trial period and will be removed when the preview update is officially released. The RTP application will remain visible in the library, but there will be no active servers until the next trial period.
Note that players will have to create new characters to access these worlds, but they will be equipped accordingly to be able to explore the preview version.
The procedure to access the RTP servers is quite simple. Since RTP does not support live play, you need to install the secondary RTP application from Steam. It is up to you to make sure your machine has enough disk space to be able to install it.
Once the RTP client is installed, special worlds are offered to players based on their region. For now, only the eastern United States and central Europe have access to these worlds. As access is on a first-come, first-served basis, there are likely to be queues.
New World Tour Summary

Through luneera, Typing jeuxvideo.com
MP
"Introvert. Travel expert. Extreme problem solver. Web buff."