Already in the presentation in the united states would have Apple promised that the satellite emergency call would start in Germany in December. Is now quite officially in this country so far and the emergency call can be made by owners of a iPhone 14 used immediately. In addition to a current Apple smartphone, iOS 16.1 or later is required. The California company already knew that many people would try the new system and therefore incorporated a demo function into the operating system. This allows you to test the feature without having to send an actual emergency call.
SOS emergency call via satellite on the iPhone 14: this is how it works
Until now, an emergency call without a mobile phone connection was only possible with special hardware. For example, there are devices like Garmins inReach Mini 2route satelite to connect with the rest of the world. They are usually used by hikers who are often away from mobile phone networks or WLAN for long periods of time. In an emergency, an emergency call can be sent so that first responders can continue on their way.
This function and a few more can now do that too. iPhone 14 take the control. You can now use the system described by Apple as "satellite SOS emergency call" in select countries. These currently include Germany, France, BritainIreland, USA and Canada.
As mentioned above, Apple has integrated a demo into the current version of iOS for contacting the satellite. You can find this in Settings > Emergency SOS > Try Demo. Your iPhone 14 demonstrates how you have to align it with a satellite in the event of a fall outdoors. Depending on the location, it may take some time before it finds it and sends the test message. So the demo helps you get to know the system without having to figure it out in a real emergency.
In a real emergency, you should still call 112 first
If the worst comes to the worst, you initiate the "SOS Emergency Call via Satellite" as usual by calling 112. Depending on the country, it can also be 999 or 911. If you can't connect to a cellular network, your iPhone 14 will allow you to use the satellite connection.
In the following steps, an assistant will ask you the most important details of the emergency. You can choose between a car accident, an injury, a crime, a loss or a fire. In the following steps, the questions will be more precise depending on the selection. In either case, your emergency pass will also be sent to first responders.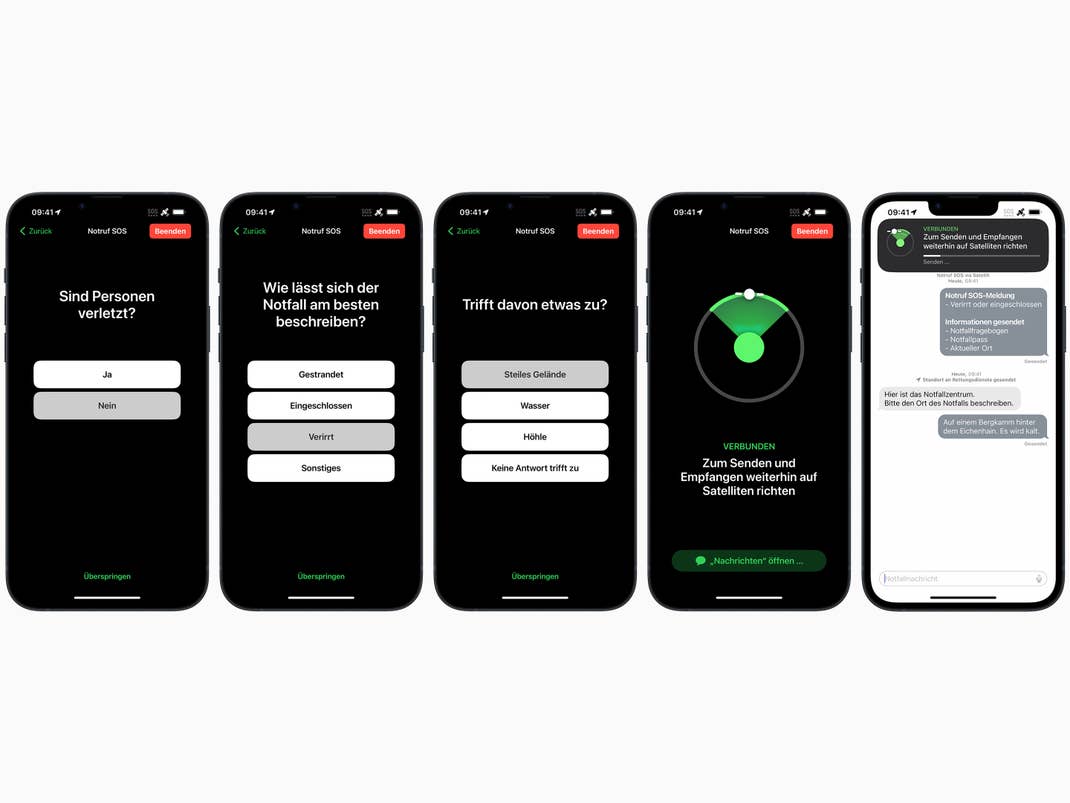 Once the wizard has collected the most important answers, it is now your task to align the iPhone 14 with the satellite. The demo function mentioned above will teach you how this works. After that, you can open the Messages app.
A chat now allows you to talk to helpers. You still need to maintain the connection between the iPhone 14 and the satellite. There may be further questions about your SOS emergency call.
iPhone 14: satellite location notification via "Where is it?"
The satellite feature on iPhone 14 also allows you to share your location with your friends via the Where Are You? from Apple. To do this, open your own profile in the app to see "My satellite location". Then tap on "Share my location".
Apple has also paired the iPhone 14's satellite communication with other emergency features. Accident detection of the current smartphone and Apple Watch can use this connection if the worst case comes.
Apple's Satellite Emergency SOS is included free for two years from the time a new iPhone 14 is activated. If you purchased your smartphone before the Satellite Emergency SOS availability date, you can use it free of charge for two years at from the date of availability of Emergency SOS via satellite. How Apple plans to handle costs afterwards has yet to be announced.
"Bacon nerd. Extreme zombie scholar. Hipster-friendly alcohol fanatic. Subtly charming problem solver. Introvert."