09/26/2022
In the absence of an RS version, track driving enthusiasts will be able to take the Ford Focus ST MkIV a step further thanks to a new Track Pack option developed by Ford Performance.
Tested on Ford proving grounds and on Germany's famous Nrburgring Nordschleife, the factory-fitted Track Pack is available exclusively for the five-door (hatchback) variant and six-speed manual transmission.
With this package, the exterior styling takes on an even more distinctive appearance with the rear spoiler, rear diffuser and front bumper fins finished in high-gloss Agate Black. The Focus ST Track Pack's roof, upper front grille and exterior mirror caps are also finished in high-gloss Agate Black. A similar gloss black effect is applied to the alloy wheels, behind which the brake calipers are finished in a deep red. Other exclusive details include subtle black outlines for the ST logos instead of chrome. Body colors include Agate Black plus Fantastic Red, Frozen White, Magnetic and ST-exclusive Mean Green.
Last year, Ford also introduced all-new interior features for the Focus ST, including in-house developed Ford Performance seats instead of the usual Recaro. Technologies also include a central 13.2-inch touchscreen, with a redesigned interface that means you're never more than a tap or two away from any app, information or command.
Developed in conjunction with motorsports specialists KW Automotive, the Track Pack's coil-over suspension system features stainless steel shock housings that offer 12-step compression adjustment and 16-step rebound adjustment. Two tuning modes allow track veterans to fine-tune their Focus ST's suspension response and even tweak performance to suit their favorite tracks.
Shocks are powered by powder-coated springs that are up to 50% stiffer and lower ride height by 10mm compared to the standard Focus ST, lowering the center of gravity and helping to reduce body roll for faster direction changes. Drivers can also adjust the suspension for an additional reduction of up to 15mm in ride height.
The 19-inch fluo-shaped alloy wheels are manufactured using a process that compacts the aluminum alloy to retain tensile strength and increase impact resistance, while using less material for a lighter alloy. The result is wheels that are 10% lighter than standard and can change vertical direction faster, improving tire contact and grip for better acceleration, braking and cornering. The wheels are completed with custom-optimized Pirelli P Zero Corsa tires for uncompromising capability on track and dry road.
Braking performance is also improved. The front discs are 10% larger in diameter than the standard 330mm versions, combined with four-piston Brembo fixed calipers to improve grip and provide more surface area to dissipate heat faster, reducing engine fade. tires during extended track sessions.
The Focus ST's 2.3-litre EcoBoost petrol engine hasn't changed. It still offers 280bhp at 5,500rpm and 420Nm of torque from 3,000rpm to 4,000rpm. It comes with an innovative Electronic Limited Slip Differential (eLSD) that hydraulically engages the clutches to redistribute up to 100% of available torque to the wheel with the most traction, to counteract wheel spin. Acting faster and more precisely than a mechanical LSD, the system preemptively adjusts torque based on inputs from engine and vehicle sensors.
Drivers can also take advantage of selectable drive modes to adjust the characteristics of the eLSD, throttle mapping, electronic power steering and electronic stability control (ESC) to suit the driving scenario. A track mode also offers sharper responses and freedom within the ESC system for maximum driver feedback and involvement.
The Focus ST Track Pack is available to order starting today in Austria, Belgium, the Czech Republic, Finland, France, Germany, Greece, Hungary, Ireland, Portugal, Romania, Spain, Switzerland and the UK, for first deliveries in november.

Read our Ford Focus 4 ST 280 test
FORD NEWS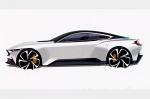 The Ford Mustang as a 4-door coupe?
The new Ford Mustang MkVII was unveiled on Wednesday, marking a new installment of the famous American pony car. During the presentation, the Oval…


read more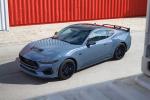 Ford Mustang 7: true to its origins
Here is the long-awaited seventh-generation Ford Mustang. And contrary to the many rumors that preceded its release, it's still a lot…


read more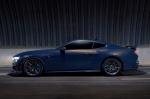 Ford Mustang Dark Horse: the sports car has a new shield
Ford wasted no time in launching a new track-focused variant of the seventh-generation Mustang. Christen Dark Horse, this version…


read more
"Troublemaker. Typical travel fan. Food fanatic. Award-winning student. Organizer. Entrepreneur. Bacon specialist."